---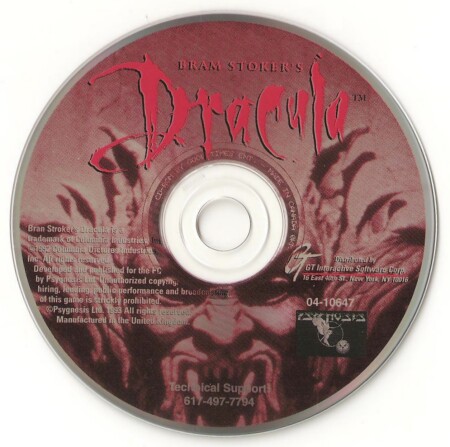 Actual Game
Bram Stoker's Dracula
A Gothic Wolfenstein 3D
1-Click Install
Windows 11, 10, 8, 7, Vista, XP
(Psygnosis 1992)
MY PROMISE
My games are genuine, install in one step, look, sound and play in Windows 11, 10, 8, 7, Vista and XP like they did in the old days, or your money back. This is my unconditional guarantee for three years.
WHAT IS INCLUDED
This listing includes the original game CD. An on-screen manual is also included. The box is pictured for reference only and is not included.
I will also provide a compatibility CD that will allow the game to run under ALL VERSIONS of Windows 11, 10, 8, 7, Vista and XP, both 32 and 64 bit.
INSTALLATION
One step: Insert my CD and the game will automatically work on your computer. Done. Yes, it's that simple.
Want to play? Click the icon. Want the game off your computer? Click Uninstall. Zero hassle.
TECH SUPPORT
Rapid response technical support for three years is always an e-mail or phone call away.
In the extremely rare event I cannot get this title to work on your system I will take it back for a full refund. All I ask is minimal assistance from you during the troubleshooting process.
The Game
The trials of Jonathan Harker have not yet come to an end. The hunt for the world's oldest and most powerful vampire, Count Dracula, has arrived at its climax but much fighting remains. To save to soul of his wife, Harker must eradicate all traces of the monster's evil. Dracula has scattered defiled coffins through a dozens of labyrinths and warrens. These coffins are both havens of rest for the vampire and portals to a fouler realm, allowing the Count's host to enter our world. Harker must destroy all these portals and force the Count to a showdown.
Harker's task is not easy. Armed only with a knife, a revolver filled with silver bullets, and a steel will, he must enter the domain of darkness, confront evil, and utterly raze it. Unfortunately, Castle Dracula has spawned a massive guard of ghouls, zombies, werewolves and much worse. It is through this bleak depressing setting that Psygnosis captures the horror and fear underlying Harker's quest.
Atmosphere
The gameworld, with its graveyard, foreboding castle, and remains of impaled and mutilated victims, does a good job in replicating the atmosphere of the Dracula story, while producing an action adventure that is challenging, has substance, and is fast paced. I can best describe it as a brooding Gothic Wolfenstein, which is not surprising considering it uses the then cutting-edge Wolfenstein 3D engine.
The sound also contributes to the dark feel, exceptional in 1992, and still standing on its own over a decade later. The background music accentuates Harker's consternation as he searches for secret passages and hidden gates, and makes the blood pressure rise as he faces off against a vile wretch intent on destruction. The sound effects suitably have an evil tone, and both effects and music rise and fall accordingly as the situation changes. Bram Stoker's Dracula is one of those titles where the music deserves almost as much appreciation as the plot, graphics or gameplay.
This brings me to the point of why good horror games are so compelling. It seems to me that there are strong elements of action in most horror titles, and all effective horror games depend on good visuals. Bram Stoker's Dracula is no exception. A dark action game is grabs you when there is a mystery underlying the action, a dark purpose which will eventually be revealed. Here the Count himself has marshaled his entire throne to beat you down, to drain you, and ultimately subjugate you. The real danger, as you know from the literary world of Dracula, is that you would not die. You would arise as an undead spirit of lesser power and would be tormented by the Count for challenging. Your ultimate goal is to the souls of your wife and yourself. And it is this swirling background that makes a Dracula title so intriguing, and gives insight into the genre's pull.
Dracula succeeds on virtually all fronts of sound and vision, but most importantly maintains a level of intensity. When you find yourself suddenly assaulted by undead corpses and snarling imps the tension feels real. Coupled with a moody soundtrack and epic quest, the game will lure you into forging ahead in your mission to eradicate the traitor to humanity -- Count Dracula.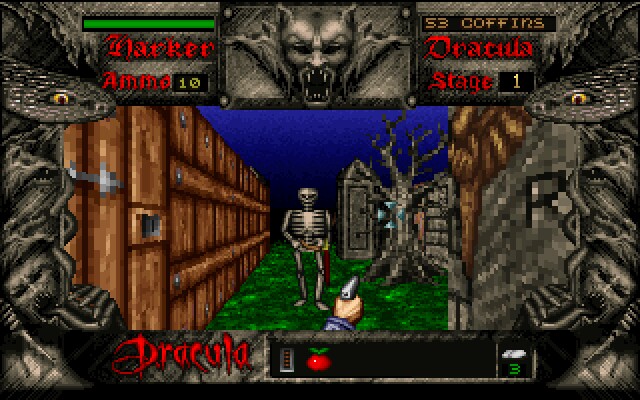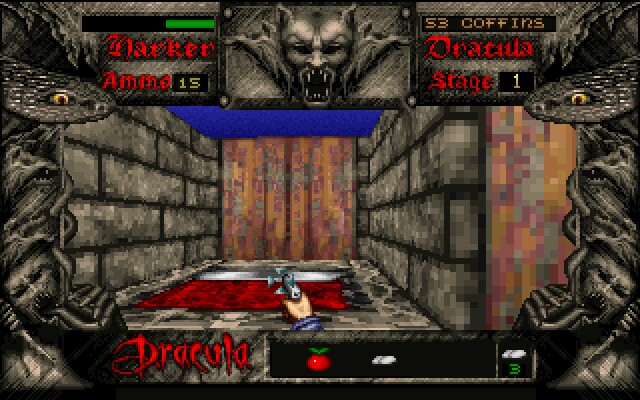 ---
Share this Product