---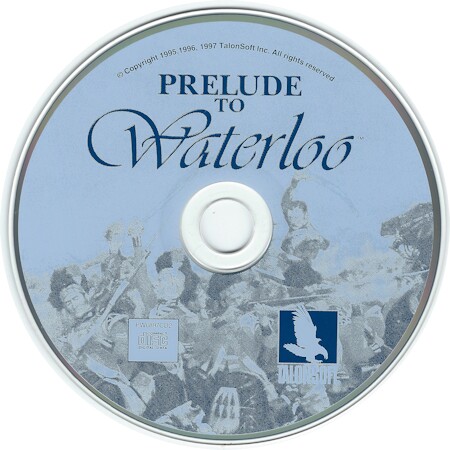 Actual Game
Battleground 8:
Prelude to Waterloo
1-Click Install
Windows 10, 8, 7, Vista, XP
(TalonSoft 1997)
MY PROMISE
My games are genuine, install in one step, look, sound and play in Windows 10, 8, 7, Vista and XP like they did in the old days, or your money back. This is my unconditional guarantee for three years.
WHAT IS INCLUDED
This listing includes the original game CD. An on-screen manual is also included. The box is pictured for reference only and is not included.
I will also provide a compatibility CD that will allow the game to run under ALL VERSIONS of Windows 10, 8, 7, Vista and XP, both 32 and 64 bit. The game has been patched to its 1.04 final version. Note that only single player mode is supported.
INSTALLATION
One step: Insert my CD and the game will automatically work on your computer. Done. Yes, it's that simple.
Want to play? Click the icon. Want the game off your computer? Click Uninstall. Zero hassle.
TECH SUPPORT
Rapid response technical support for three years is always an e-mail or phone call away.
In the extremely rare event I cannot get this title to work on your system I will take it back for a full refund. All I ask is minimal assistance from you during the troubleshooting process.
The Game
Battleground 8: Prelude to Waterloo is a typical TalonSoft example of how the depth of research and accuracy of the orders of battle are something all wargames could emulate. Units are represented and modeled in detail, battles are meticulously recreated, and hypothetical scenarios (though more academic than gripping) are all diligently re-created. In a system where it did not take a half hour to cross a wheat field, I would be slobbering over this much depth. No one is doing Napoleonic warfare with this much alacrity (which remains a mystery). It's easy to love the material and the attention to detail.
Prelude to Waterloo is the third Napoleonic game in the Battleground series, following Waterloo and Napoleon in Russia. This time, TalonSoft turns its attention to Quatre-Bras and Ligny: two battles of the Hundred Days that set the stage for Waterloo. Napoleon had interposed himself between Wellington and Blucher, personally leading a brutal, and successful, assault on Blucher's Prussian army at Ligny that cost the defenders 28,000 men. Two days later, Marshall Ney tried something similar at Quatre-Bras and had almost succeeded in dislodging the Anglo-Dutch forces under William of Orange when Wellington arrived. The battles are full of what-ifs (Ney uses I Corps, Wellington supports Blucher) and pocket engagements that make for interesting gaming. Prelude to Waterloo offers 23 different scenarios, three of them under the new "extreme fog-of-war" feature that hides all information on opposing units. Both battles and the whole campaign are offered for play in their totality.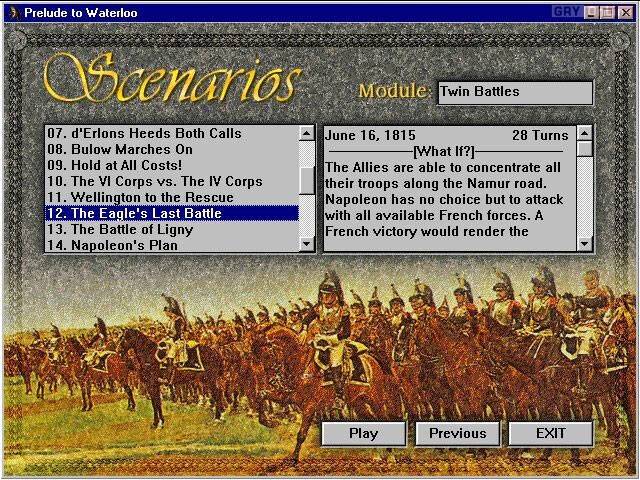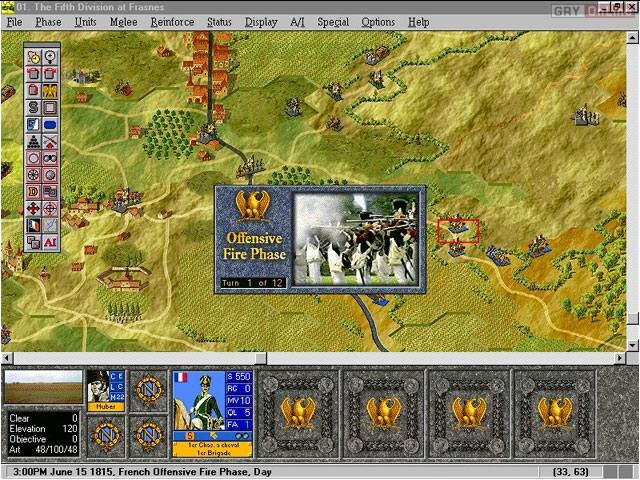 ---
Share this Product