---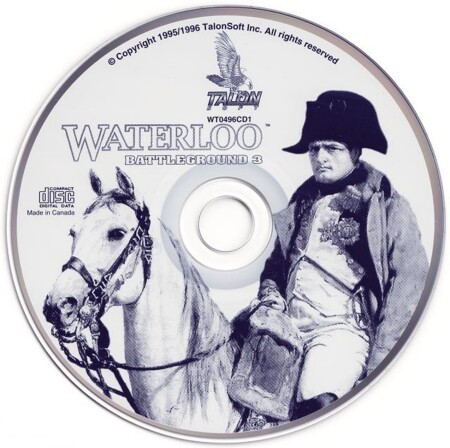 Actual Game
Battleground 3: Waterloo
1-Click Install
Windows 11, 10, 8, 7, Vista, XP
(TalonSoft 1996)
MY PROMISE
My games are genuine, install in one step, look, sound and play in Windows 11, 10, 8, 7, Vista and XP like they did in the old days, or your money back. This is my unconditional guarantee for three years.
WHAT IS INCLUDED
This listing includes the original game CD. An on-screen manual is also included. The box is pictured for reference only and is not included.
I will also provide a compatibility CD that will allow the game to run under ALL VERSIONS of Windows 11, 10, 8, 7, Vista and XP, both 32 and 64 bit. Note that only single player mode is supported. The game has been patched to its 1.14 final version.
INSTALLATION
One step: Insert my CD and the game will automatically work on your computer. Done. Yes, it's that simple.
Want to play? Click the icon. Want the game off your computer? Click Uninstall. Zero hassle.
TECH SUPPORT
Rapid response technical support for three years is always an e-mail or phone call away.
In the extremely rare event I cannot get this title to work on your system I will take it back for a full refund. All I ask is minimal assistance from you during the troubleshooting process.
The Game
Cannon to right of them, Cannon to left of them, Cannon in front of them Volley'd & thunder'd; Storm'd at with shot & shell, Boldly they rode & well, Into the jaws of Death
Alfred, Lord Tennyson, attempted to capture the glory, the spirit, and the savagery of military conflict in this quote from "The Charge of the Light Brigade." Battleground: Waterloo, the third entry in Talonsoft's Battleground series, provides an even more intriguing perspective on Napoleonic warfare. Some historical games offer accuracy at the expense of looks; others have style but no substance. Battleground: Waterloo offers the best of both worlds, and throws in some great new features along the way.
The graphics in Battleground: Waterloo are first-rate. In addition to the traditional 2D perspectives, the 3D views of the battlefield appear to have significantly improved over the previous Talonsoft games. The Zoom-In modes reveal detailed units, buildings, and terrain. The music truly helps draw you into the action.
Battleground: Waterloo's interface is similar to that of its predecessor, Battleground: Gettysburg, with a few extras tacked on. One outstanding addition is the Advantage slider, which lets you make the game as easy or difficult as you like. Instead of forcing you to choose a single difficulty level, the programmers now allow you to alter the balance of the scenarios to suit your tastes. Since Battleground: Waterloo lacks any tutorial, the Advantage slider allows you to learn without becoming too frustrated. Several other features have been tweaked to allow more unit control. The combat AI is also very good, but plays conservatively and doesn't spring too many surprises.
In the end, while the Battleground series has always featured solid gameplay, this title adds a grace of play and significant style to the table as well. Battleground: Waterloo will show you more than a simple look at a battle—it will show you how a wargame can do almost everything right.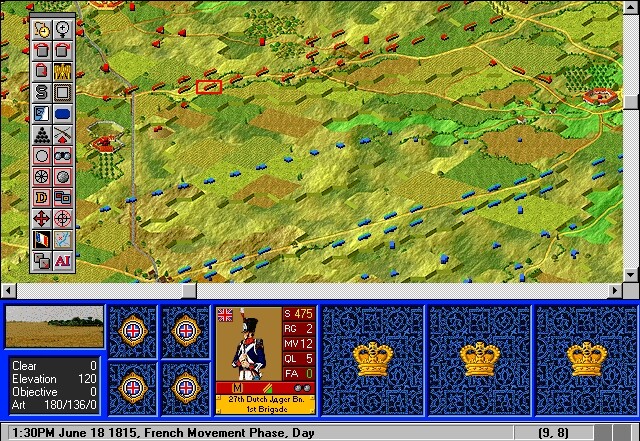 ---
Share this Product