---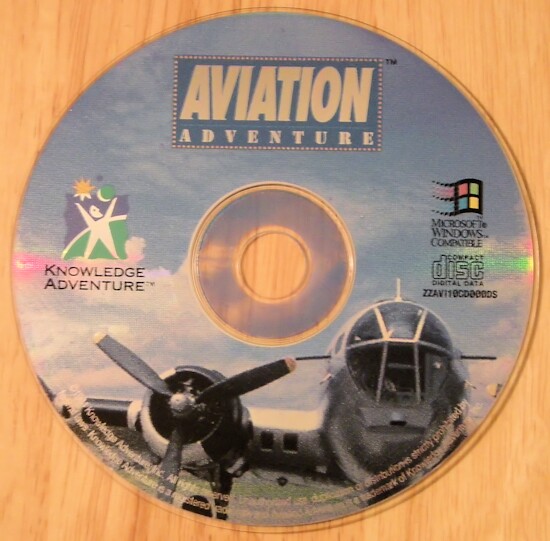 Actual Game
Aviation Adventure
1-Click Install
Windows 11, 10, 8, 7, Vista, XP
(Knowledge Adventure 1994)
MY PROMISE
My games are genuine, install in one step, look, sound and play in Windows 11, 10, 8, 7, Vista and XP like they did in the old days, or your money back. This is my unconditional guarantee for three years.
WHAT IS INCLUDED
This listing includes the original game CD. An on-screen manual is also included. The box is pictured for reference only and is not included.
I will also provide a compatibility CD that will allow the game to run under ALL VERSIONS of Windows 11, 10, 8, 7, Vista and XP, both 32 and 64 bit.
INSTALLATION
One step: Insert my CD and the game will automatically work on your computer. Done. Yes, it's that simple.
Want to play? Click the icon. Want the game off your computer? Click Uninstall. Zero hassle.
TECH SUPPORT
Rapid response technical support for three years is always an e-mail or phone call away.
In the extremely rare event I cannot get this title to work on your system I will take it back for a full refund. All I ask is minimal assistance from you during the troubleshooting process.
The Game
Aviation Adventure is divided into several areas of interest:
Aviation Reference Library & Aircraft Encyclopedia: You can navigate via a globe for locations, a time line, or category buttons (Early Aviation, for instance). A picture will be displayed while the narration scrolls below simultaneously with the audio. By moving the pointer around in the picture window, note balloons give additional information; click on a note balloon, and you will travel to a different entry about a related subject. By clicking on a word in the text window, you can locate index entries to articles in which that word appears; click on the name of the entry you want to see. To return, press the escape key. You can also print text or images. Information from the reference library forms the basis for the Trivia Quiz.
Aviation Theater: After selecting a category, make selections by clicking on the frames at the right of the movie screen. Three categories of video clips are available:
Bloopers - humorous narration accompanies short video clips
Documentaries - historic and informational, but long and boring compared to other parts of the program
Historical - These clips have no narration, but many are stunning. Don't miss the Blue Angels' impressive precision flying.
Click on members of the audience for a surprise,
Aviation Lab: Ten different aircraft are available for inspection. You can view the exterior, or a cutaway diagram of the interior. Text will be read and scroll below the picture window.
Paper Plane Factory: Learn to fold various paper airplanes by looking at the step-by-step images of the paper plane in the picture window, by listening to and reading the instructions. You can stop after each step and even move back or forward a step at a time as needed. Certain principles of flight (such as balance and angle of attack) are also explained.
Glider Game: Exactly that. Follow the visual instructions to make several complex paper gliders.
Aviation Museum: Move through rooms, doors, and hallways suggestive of a Doom game. Click on pictures to hear and read more about them. The Dogfight Theater is a must see.
Aviation Adventure Trivia Quiz: Each multiple choice question offers four different pictures with sound narration and/or balloons explaining each suggested choice. Humor is at its best in this section. By logic and process of elimination you can usually limit the possible answers to two. Great audio reinforcers (That's Right! Good work! You're joking, right? Whoa! Try again!) for each question. For each level you will see an animated cartoon clip if you do well, or documentary disaster clip if you do poorly. Items are based on information in the Aviation Reference Library and Aircraft Encyclopedia. You can press the hint button to get 60 seconds to try finding the answer in the library/encyclopedia section.
Flight Simulator: The user must become familiar with a number of commands on the keyboard before embarking on the training flight, much less an actual mission. With sufficient time and practice, you might actually become a proficient pilot.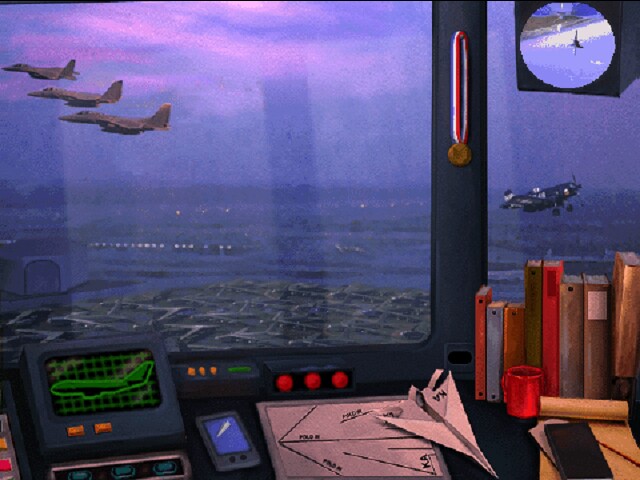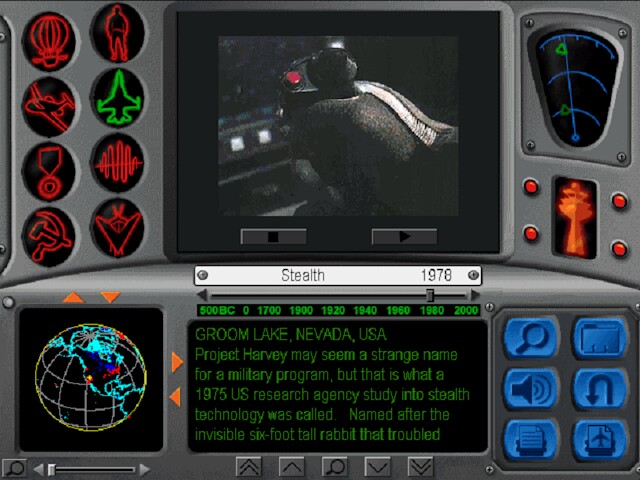 ---
Share this Product