---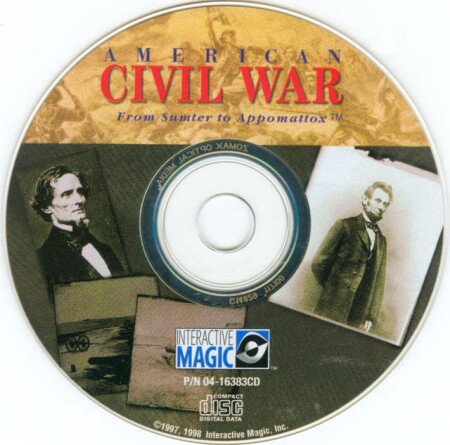 Actual Game
American Civil War
From Sumter to Appomatox
1-Click Install
Windows 11, 10, 8, 7, Vista, XP
(I-Magic 1996)
MY PROMISE
My games are genuine, install in one step, look, sound and play in Windows 11, 10, 8, 7, Vista and XP like they did in the old days, or your money back. This is my unconditional guarantee for three years.
WHAT IS INCLUDED
This listing includes the original game CD. An on-screen manual is also included. The box is pictured for reference only and is not included.
I will also provide a compatibility CD that will allow the game to run under ALL VERSIONS of Windows 11, 10, 8, 7, Vista and XP, both 32 and 64 bit.
INSTALLATION
One step: Insert my CD and the game will automatically work on your computer. Done. Yes, it's that simple.
Want to play? Click the icon. Want the game off your computer? Click Uninstall. Zero hassle.
TECH SUPPORT
Rapid response technical support for three years is always an e-mail or phone call away.
In the extremely rare event I cannot get this title to work on your system I will take it back for a full refund. All I ask is minimal assistance from you during the troubleshooting process.
The Game
The Civil War was the bloodiest conflict in American history—brother against brother, North against South. As the war continues to be recreated on computers around the world, one game that stands out among the rest in the genre is Interactive Magic's American Civil War. It pulls you out of the trenches and puts you in the chair of the Commander-in-Chief. If you prefer the "big picture" approach to military simulations, American Civil War is hard to beat.
American Civil War has a better interface than most wargames of the mid 90s. Pull-down menus, pop-up windows, and visual pushbuttons mean you rarely need to touch the keyboard. The Main Map screen, where you order your subordinates around, is a traditional 2-D, top-down view. Unit graphics are functional, but the terrain shows a little more color and style. Everything on the interface is accessible.
The gameplay is where American Civil War shines brightly. In this game's turn-based system, you give the orders and watch your generals obey … or disobey … or ignore you. As commander, you will probably change generals more often than most people change socks. You also have to maintain the political and economic infrastructure while making your military plans. On a positive note, the computer seems to have the same difficulty with his forces as you undoubtedly will.
American Civil War offers players a chance to run the war from the top. You make plans, give orders, and hope for the best. Good graphics, a good interface, and gameplay that keeps you coming back for more are this product's strengths. Overall, it's a winner.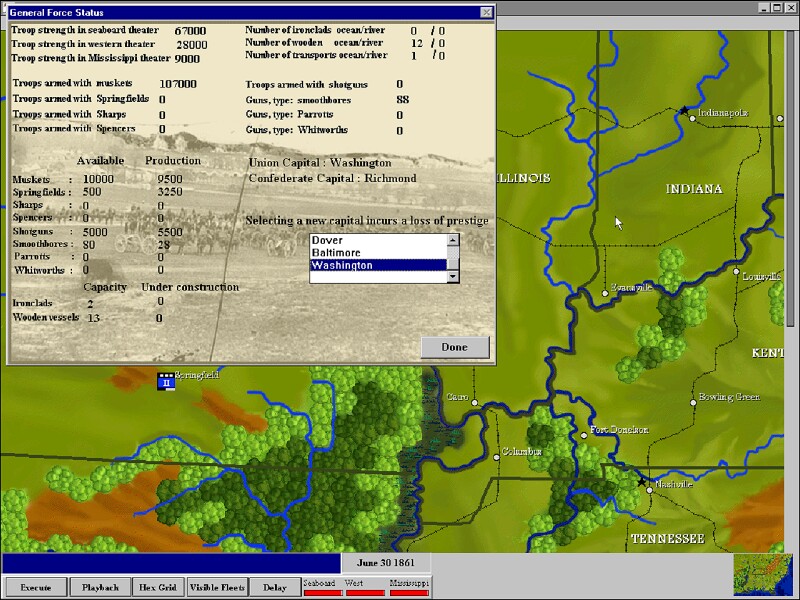 ---
Share this Product