---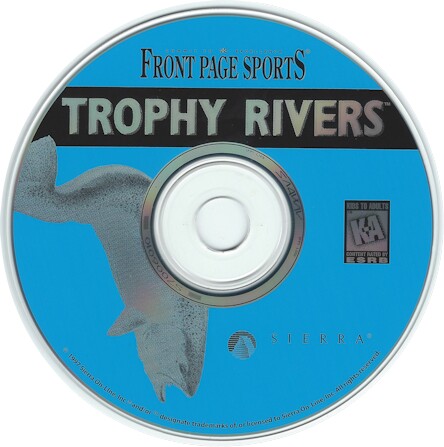 Actual Game
Front Page Sports
Trophy Rivers
1-Click Install
Windows 11, 10, 8, 7, Vista, XP
(Sierra 1997)
MY PROMISE
My games are genuine, install in one step, look, sound and play in Windows 11, 10, 8, 7, Vista and XP like they did in the old days, or your money back. This is my unconditional guarantee for three years.
WHAT IS INCLUDED
This listing includes the original game CD. An on-screen printable manual is also included. The box is pictured for reference and is not included.
I will also provide a compatibility CD that will allow the game to run under ALL VERSIONS of Windows 11, 10, 8, 7, Vista and XP, both 32 and 64 bit. Note that multiplayer mode no longer functions.
INSTALLATION
One step: Insert my CD and the game will automatically work on your computer. Done. Yes, it's that simple.
Want to play? Click the icon. Want the game off your computer? Click Uninstall. Zero hassle.
TECH SUPPORT
Rapid response technical support for three years is always an e-mail or phone call away.
In the extremely rare event I cannot get this title to work on your system I will take it back for a full refund. All I ask is minimal assistance from you during the troubleshooting process.
The Game
Trophy Rivers is a pseudo-sequel to Sierra's popular Trophy Bass series. Utilizing almost the exact same style of gameplay, Trophy Rivers includes the option of fishing with a fly rod for the beautiful and elusive salmon, steelhead, and trout (catch and release only, please). Despite glaring shortcomings in gameplay and graphics, TR remains unique and fun enough to entertain anyone who's ever sat in his office and wished he were on a stream.
Trophy Rivers offers you plenty of fishing options, from difficulty level to rod size, to the type, size, and color of your fly. A fly's success is based on variables such as weather, water temp, and water depth, although it seems that once you've caught something on one fly, it will last you the whole day (which is good because it's extremely boring to sit in front of a fish and try 50 different types and colors of mayflies without it budging an inch). Once you've practiced enough, you can take part in tournaments of different lengths and even embark on a fly-fishing career.
Gameplay simply consists of finding the right lure, laying it out in front of the fish, and using your mouse to reel and keep tension on the line after the fish hits. There is no penalty for breaking the line, so tournament gameplay essentially boils down to catching all of the smaller fish in a group, breaking the line so that they swim away, and then going for the big guy that's left behind. Unfortunately, when you hook a big fish, it immediately swims directly off of the screen, where it remains, heard but not seen, for the majority of the battle. This is roughly equivalent to playing Street Fighter and trying to punch an offscreen Ivan Zangief. It's difficult and annoying, particularly because when the fish is on the line (and on the screen) the game is extremely exciting, requiring a great deal of skill and patience, and a little bit of luck.
Trophy Rivers is generally realistic and comprehensive, surely a game that only a fisherman could love. But, just like real fishing, when you're hooked into a good run of 30-inch rainbows there's nowhere you'd rather be.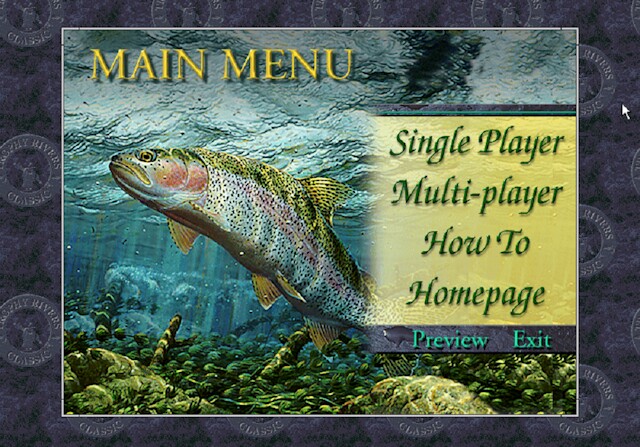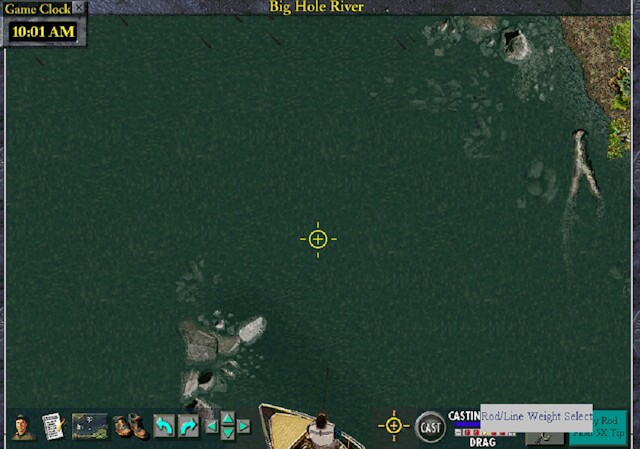 ---
Share this Product