---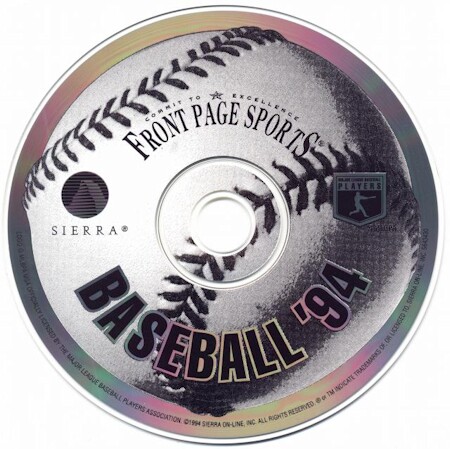 Actual Game
Front Page Sports
Baseball Pro '94
1-Click Install
Windows 11, 10, 8, 7, Vista, XP
(Sierra 1994)
MY PROMISE
My games are genuine, install in one step, look, sound and play in Windows 11, 10, 8, 7, Vista and XP like they did in the old days, or your money back. This is my unconditional guarantee for three years.
WHAT IS INCLUDED
This listing includes the original game CD. An on-screen printable manual is also included. The box is pictured for reference and is not included.
I will also provide a compatibility CD that will allow the game to run under ALL VERSIONS of Windows 11, 10, 8, 7, Vista and XP, both 32 and 64 bit.
INSTALLATION
One step: Insert my CD and the game will automatically work on your computer. Done. Yes, it's that simple.
Want to play? Click the icon. Want the game off your computer? Click Uninstall. Zero hassle.
TECH SUPPORT
Rapid response technical support for three years is always an e-mail or phone call away.
In the extremely rare event I cannot get this title to work on your system I will take it back for a full refund. All I ask is minimal assistance from you during the troubleshooting process.
The Game
Dynamix drastically upgraded its graphics engine and gameplay with the release of Front Page Sports Baseball '94. In contrast to earlier installments of the series, Front Page '94 sports a new camera system, improved graphics and an redesigned user interface. Dynamix was never a company to rest on its laurels.
For starters, the new interface interface sports complete drop down menus. This allows Dynamix to add a host of play options, at times so much you will be surprised. Associations can be defined for as little as 8 teams and as much as 48 teams in up to 3 leagues with 3 divisions each. The designated hitter rule can be on or off in any league. Season length itself is a menu option -- short, half, or full. The most dramatic new feature is a built-in fantasy draft program!
The playability really shines with the way it handles rosters and statistics. Rosters are divided into four parts: An active roster of 25 players, a AAA roster of 15 players, a disabled list, and a low minors roster of 10 players. There is an unlimited number of transactions that can be made between the active roster and the AAA roster, with the low minors roster for players drafted in the Amateur Draft. Players can be put into this roster if they are under the age of 26 and are released and resigned the next week. The roster assignment screen is impressive and very comprehensive: the top row, all four rosters are listed along with list of free agents signed, players released, players sent in trade, and players received by trade for that week.
Front Page uses a veritable slew of player ratings, each ranging from 0 to 99. For example, batters are rated on contact hitting, power hitting, speed, fielding (for all nine positions), arm strength, pull ability, and ground vs. air hit percentages. Pitchers have ratings for holding runners, endurance, control, ground and flyball percentages, as well as seven different pitches. For a given pitch the pitcher must have a rating of 30 or higher. A pitcher can use a maximum of four pitches in a game so as not to allow unrealistically well-rounded pitchers. Also, all players have these stats, so if you need a position player to be a pitcher or vice-versa.
You can see a roster of your batters, pitchers, lineups against left handers and right handers, fielding positions for each lineup, and pitching staff roles. In the pitching staff roles, you select your starters, long and middle relievers, setup men and closers. The game comes with an add-on that allows you create your own team, with stats.
Player transactions have also been improved over the earlier version. The selection screen for trades and free agents allow for more than just position -- It allows selections of left and right handers, switch hitters, minimum ratings and age limitations. Trades have the additional choices of which teams to trade with and which roster the player is on. There are three players allowed on each side of a trade. All trades and free agent signing are not resolved until the next day in the order of record. All transactions and injuries for that day are listed under the teams news. A central location to see all the teams' transactions would have been a nice touch but this is not a show-stopper by any means.
Gameplay
Front Page '94 allows you to select the level of player control. There are degrees for managing, lineup, pitching, fielding, batting and baserunning, ranging from full computer control to full manual. Added touches include injuries, fatigue, the DH rule and more.
After the setup you will be taken to one of twelve ballparks: Arlington, The Astrodome, Atlanta Fulton County Stadium, Camden Yards, Candlestick Park, Comiskey Park, Dodger Stadium, Fenway Park, Jacobs Field, Royals Stadium, Wrigley Field, and Yankee Stadium. Each stadium has its own bitmapped screen projecting outwards from the batter. Below the screen an information bar shows both the batter and pitcher names and their primary statistics, as well as the runners on base and their speed ratings. You even have the option to diagram where a given pitch lands in relation to the strike zone and its speed.
One of the best implemented features of the game is its instant replay option known as Camera Angle Management System or CAMS. This allows the user to position the camera anywhere in the ballpark at any angle. Other games of the era provide fixed alternate angles, if at all. Dynamix is in a class by itself here. You can also have the camera track an object, follow an object, and set up different cameras for each part of the field! You can even review and edit replays using different angles!
Front Page Baseball '94 excels in both visual and statistical presentation. The graphics are far-and-away cutting edge for the time and the logic engine is top notch. Dynamix did an incredible job merging look-and-feel with a truly intelligent game model. Front Page '94 set the standard for its time and spawned many imitators. However, Front Page is the original groundbreaker.
---
Share this Product