---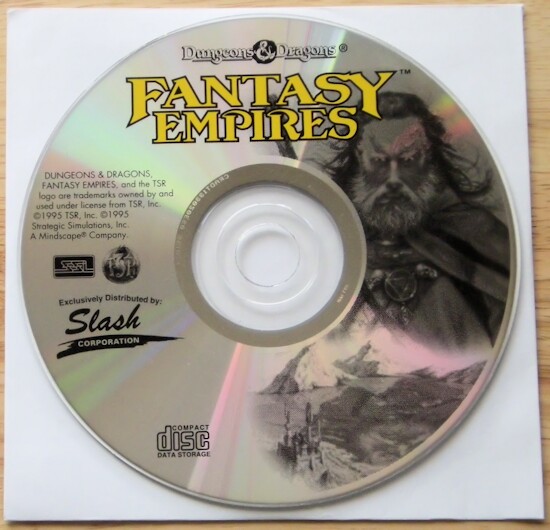 Actual Game
Fantasy Empires
1-Click Install
Windows 11, 10, 8, 7, Vista, XP
(SSI 1992)
MY PROMISE
My games are genuine, install in one step, look, sound and play in Windows 11, 10, 8, 7, Vista and XP like they did in the old days, or your money back. This is my unconditional guarantee for three years.
WHAT IS INCLUDED
This listing includes the original game CD. An on-screen manual is also included. The box is pictured for reference only and is not included.
I will also provide a compatibility CD that will allow the game to run under ALL VERSIONS of Windows 11, 10, 8, 7, Vista and XP, both 32 and 64 bit.
INSTALLATION
One step: Insert my CD and the game will automatically work on your computer. Done. Yes, it's that simple.
Want to play? Click the icon. Want the game off your computer? Click Uninstall. Zero hassle.
TECH SUPPORT
Rapid response technical support for three years is always an e-mail or phone call away.
In the extremely rare event I cannot get this title to work on your system I will take it back for a full refund. All I ask is minimal assistance from you during the troubleshooting process.
The Game
In Fantasy Empires you are challenged to reunite the world of Mystara, all 98 territories, by building and controlling an empire and then steadily expanding it through the use of magic, war and strategic planning. Featuring real time combat from an overhead perspective (arcade-like) and an innovative computer controlled Dungeon Master acting as referee and consultant, Fantasy Empires replicates game play intended to simulate action in a Dungeons and Dragons world. Fantasy Empires is a strategic war game with role playing overtones where you face up to four human or computer controlled opponents in a race to build an empire either by forming alliances or waging war. Character generation, skill building, spell casting, troop development, conquest and elements of resource management combine to create an enchanted environment in Fantasy Empires.
Fantasy Empires can be played in either single scenario or campaign mode and accommodates up to five players either human or chosen from twenty computer controlled opponents. Setting up your character involves naming him/her, choosing one of five possible classes (elf, magic-user, cleric, fighter or dwarf) and alignment (lawful, neutral or chaotic). An option is available to personalize the character with background information. The game's level of difficulty is dependent upon the strength of opponents' experience levels. Other options include depth of military involvement (fog of war or all troop movement visible) and randomness of world (random causes each territory to have different properties such as income and troop types).
The interface is mouse driven and uses on-screen function keys for aspects ranging from building construction to troop movement. Sequence is turn based until combat ensues where you have the option of realtime battle or letting the computer determine the outcome. Four major control devices in the game are buttons (gadgets), cycle buttons (up and down arrows with scrollable list of options), scrolls and books. Fantasy Empires has it's own system of money which is used mainly in construction (keeps, armories, temples, towers, castle walls). Several information screens are available that provide data in keeping up with your kingdom. For example, the Empire Screen shows total worth (troop strength, buildings, maintenance costs, etc.), a Hero Quest Screen shows status of searches for ancient magical artifacts and the Message Screen facilitates communication with opponents in terms of three available types of messages (message, aid and treaty). Other screens deal with casting spells, troop movement, troop training, building construction and game preferences.
These bells and whistles merely touch on some of the options and details available in Fantasy Empires. Is the game fun? The answer probably depends on your level of expertise and commitment to detail required to play elaborate strategy war games. Novices will be overwhelmed by the sheer volume of detail encountered whereas veteran players will have little trouble adapting to the flow. With four general orders used in battle and a mix of player character classes and races to keep track of, management can become tedious at times. Some classes or races can be trained or purchased to be heroes while others can only be used as general troops. It's this mix of characters, heroes and regulars along with their attendant abilities (strength, wisdom, intelligence, charisma, stamina and dexterity) that determine the strength and success of your kingdom along with a well honed plan of strategy for conquering the 98 regions of Mystara that make up the 12 countries in the land.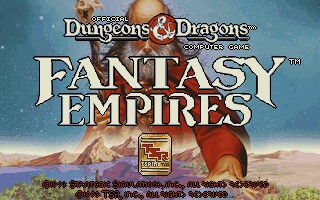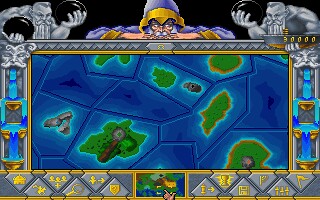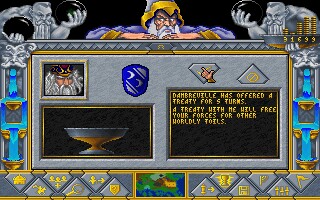 ---
Share this Product