---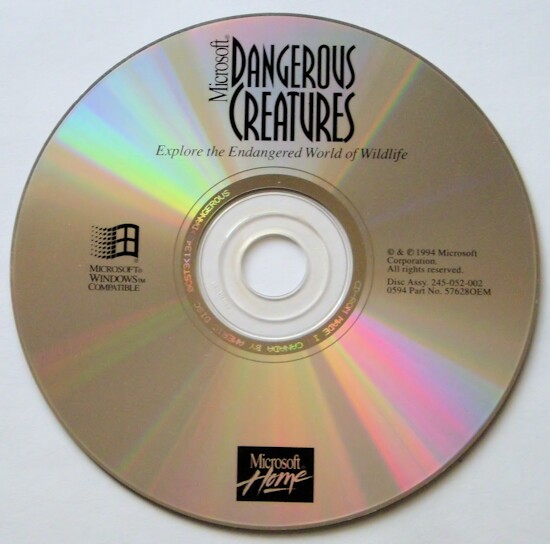 Actual Game
Microsoft
Dangerous Creatures
1-Click Install
Windows 11, 10, 8, 7, Vista, XP
(Microsoft 1994)
MY PROMISE
My games are genuine, install in one step, look, sound and play in Windows 11, 10, 8, 7, Vista and XP like they did in the old days, or your money back. This is my unconditional guarantee for three years.
WHAT IS INCLUDED
This listing includes the original game CD. The box is pictured for reference and is not included.
I will also provide a compatibility CD that will allow the game to run under ALL VERSIONS of Windows 11, 10, 8, 7, Vista and XP, both 32 and 64 bit.
INSTALLATION
One step: Insert my CD and the game will automatically work on your computer. Done. Yes, it's that simple.
Want to play? Click the icon. Want the game off your computer? Click Uninstall. Zero hassle.
TECH SUPPORT
Rapid response technical support for three years is always an e-mail or phone call away.
In the extremely rare event I cannot get this title to work on your system I will take it back for a full refund. All I ask is minimal assistance from you during the troubleshooting process.
The Game
Dangerous Creatures was one of the first chapters in Microsoft's Exploration Series. Creatures allows you to explore a microworld of over 250 endangered and dangerous creatures. Guides are available or users can explore by themselves. There are 5 main components - Atlas, Weapons, Habitats, Index and Guides.
Students often choose to travel through this wildlife world with a guide at first. The three guides provide an amusing and friendly tour of abundant brilliant images, text reviewed by World Wildlife Fund scientists, numerous sounds and videos. The guides, a storyteller, naturalist and photographer, offer different points of view on nature. With each, viewers have an opportunity to hear, see and learn.
Atlas provides a two-dimensional view of the earth, and it allows the user to select a location by continent. This leads to a listing of wildlife for that continent. For Australia the choices are saltwater swimmers, crocodile, Tasmanian devil, cockroach, cane toad, mosquito, funnel-web spider, platypus and rat, and there is also a button that leads to a panel on 'Australian oddities'. One can generally access between 10 and 20 creatures for each continent.
If one of the animals is clicked on, the result is a topic screen similar to that displayed in the image above. The pictures are colorful and clear, and many of these topic screens include a video clip. These are interesting and of good quality, but they cannot be viewed full screen and are rather short (about 20 secs). The topic screens also include a number of hot buttons that provide additional information or lead to another screen, and certain words eg. 'species' and 'predator' are highlighted. If the user clicks on one of these highlighted words its pronunciation and definition are provided. Most screens also have hot buttons for Facts (detailed information about the current creature or topic) and a cross reference to another topic (Coral Reef in the case of Blue Ringed Octopus). Some of the cross references are rather tenuous. For example, one can jump from Killer Bee to Portuguese Man-of-War (they both deliver painful stings) and from Centipedes to Cats (they both hunt at night). On the other hand, using the cross referencing buttons is a good way to go on a wide ranging tour of the whole program. Some topic screens include games - interactive learning activities related to the current topic.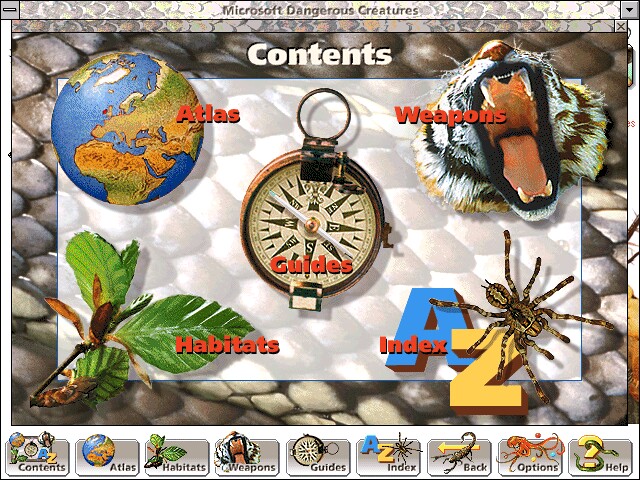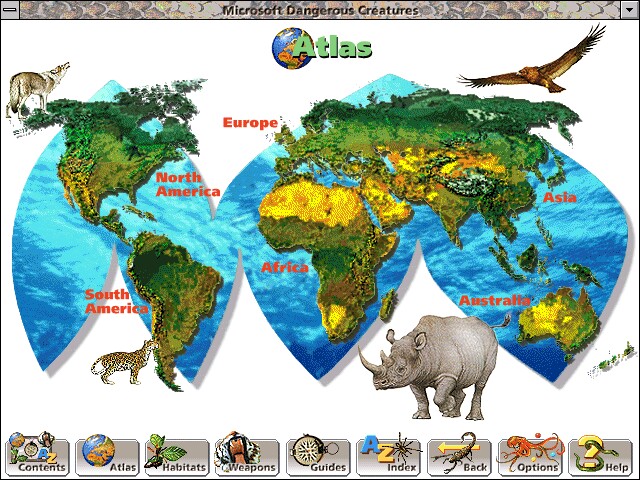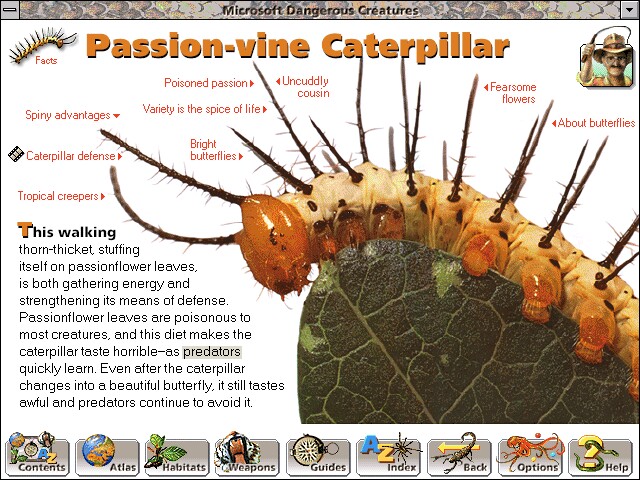 ---
Share this Product