---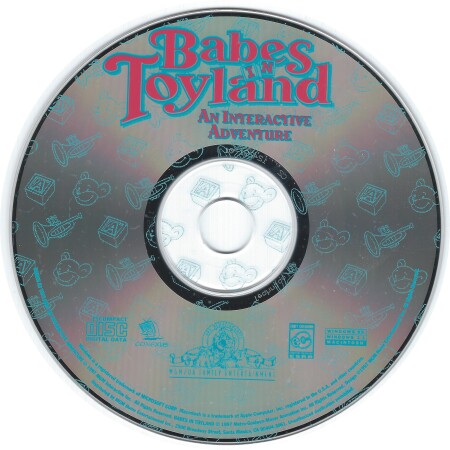 Actual Game
Babes in Toyland
1-Click Install
Windows 11, 10, 8, 7, Vista, XP
(MGM 1997)
MY PROMISE
My games are genuine, install in one step, look, sound and play in Windows 11, 10, 8, 7, Vista and XP like they did in the old days, or your money back. This is my unconditional guarantee for three years.
WHAT IS INCLUDED
This listing includes the original game CD. The box is pictured for reference only and is not included.
I will also provide a compatibility CD that will allow the game to run under ALL VERSIONS of Windows 11, 10, 8, 7, Vista and XP, both 32 and 64 bit.
INSTALLATION
One step: Insert my CD and the game will automatically work on your computer. Done. Yes, it's that simple.
Want to play? Click the icon. Want the game off your computer? Click Uninstall. Zero hassle.
TECH SUPPORT
Rapid response technical support for three years is always an e-mail or phone call away.
In the extremely rare event I cannot get this title to work on your system I will take it back for a full refund. All I ask is minimal assistance from you during the troubleshooting process.
The Game
Babes in Toyland is based on the late 90s film of the same name. Toyland has just manufactured a huge load of toys to be picked up by Santa Claus to fulfill the jolly old elf's Christmas order. Just before Santa is scheduled for pickup, Barnaby the villain and his hench-cat swipe the toys and scatter them about Toyland. It is up to Jack and Jill to recover the toys before St. Nick arrives. Babes in Toyland is oriented towards children and consists of 9 minigames. The reward for each minigame is the recovery of another toy.
Old lady in the shoe: The lady in the shoe needs help in locating her copious children. Click around various rooms in order to find where all the kids are hiding.
Balloon memory: A clown is holding a bunch of balloons. Click on 2 balloons to reveal their animated patterns and find all the matching pairs.
Train matching: You board a train and are responsible for properly pairing passengers. I.e., the gingerbread man should sit with the gingerbread woman.
Ducks in the well: Some ducks have fallen into a well and are swimming with the fish. Lower the bucket and recover the ducks, but avoid lifting the fish.
Haunted forest: Goblins are descending upon you at an alarming rate. Use your flashlight to ward them off.
Humpty Dumpty on the wall: Humpty Dumpty is sitting on his great wall when the naughty cat causes him to fall and shatter. Put Humpty back together in the allotted time.
Clock tower:March a series of toy soldiers and stack them in a proper column in order to reach a toy that is at the top of a clock tower.
Toy factory: Repeat a sequence of notes using a giant piano keyboard in order to make the toy factory whistle blow and bring down the stuck toy. As a bonus, you are granted access to the toy factory where you are allowed to change the settings on a toy-making machine for fun.
Barnaby's lair: First, scale Barnaby's house from the outside while dodging obstacles. Once inside, play a shell game with Barnaby.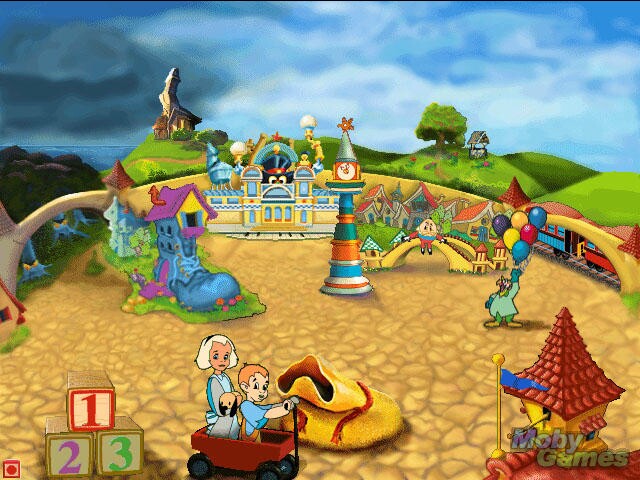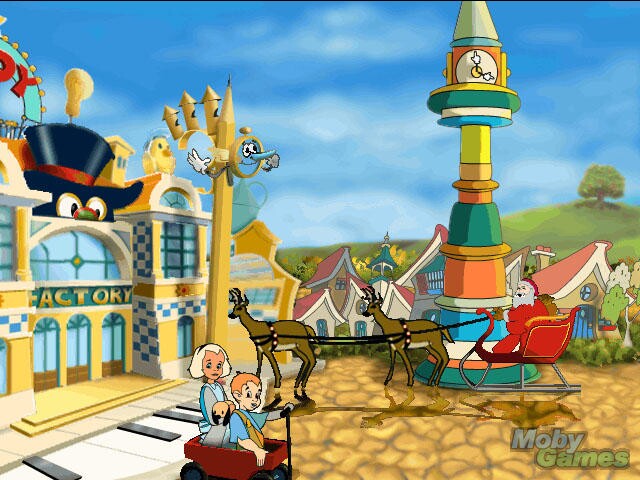 ---
Share this Product