---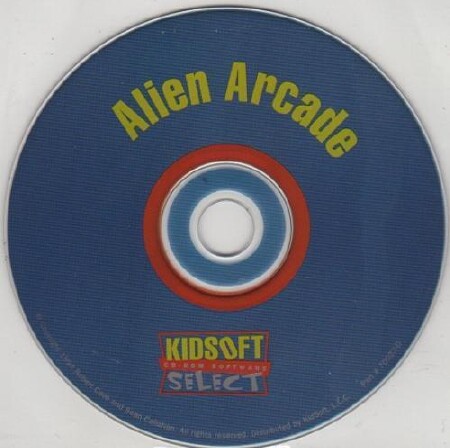 Actual Game
Alien Arcade
1-Click Install
Windows 11, 10, 8, 7, Vista, XP
(Luxenberg 1994)
MY PROMISE
My games are genuine, install in one step, look, sound and play in Windows 11, 10, 8, 7, Vista and XP like they did in the old days, or your money back. This is my unconditional guarantee for three years.
WHAT IS INCLUDED
This listing includes the original game CD. Online help is available within the game. The box is pictured for reference and is not included.
I will also provide a compatibility CD that will allow the game to run under ALL VERSIONS of Windows 11, 10, 8, 7, Vista and XP, both 32 and 64 bit.
INSTALLATION
One step: Insert my CD and the game will automatically work on your computer. Done. Yes, it's that simple.
Want to play? Click the icon. Want the game off your computer? Click Uninstall. Zero hassle.
TECH SUPPORT
Rapid response technical support for three years is always an e-mail or phone call away.
In the extremely rare event I cannot get this title to work on your system I will take it back for a full refund. All I ask is minimal assistance from you during the troubleshooting process.
The Game
Alien Arcade is a mid 90s games collection aimed at younger players. The games are all controlled with the mouse, and all have the same theme of aliens and outer space. The graphics are colorful and cartoony, and the arcade action is designed to be non-violent and kid-friendly. Each game has its own highscore table.
There are six games in the collection.
Andromedroids: in this game you build up robots one piece at a time, by dropping them into one of seven assembly bins. There is also a recycle bin for dropping unused parts, and a special bug bin for dropping Mercurian Metal Bugs that may appear. Dropping the bugs in any other bin will cause damage to your robot parts.
Fungus Patrol: you control a ship in the middle of the screen that can only rotate, but if you click the mouse, the ship shoots out in a straight line on a bungee cord, touches the edge of the screen, then snaps back to the center. Green fungus encroaches in on you from the edges of the screen, and you clear it up by hitting it with your ship, which has a big suction nozzle on the front of it. The fungus can damage your bungee cord, and if it is completely eaten away, the game is over.
Nerdoids: you control a ship at the bottom of the screen that can only move left and right, and shoots comic books. Moving across the screen, on multiple levels, are orange aliens wearing glasses. If you hit an alien with a comic book, they will start reading it. If you hit an alien already reading a comic book with another comic book, they drop the one they are holding. The aim is to have all aliens still be reading a comic book when they leave the screen. The aliens will also randomly drop calculators and pocket protectors, that can subtract 5 comic books from your arsenal if they hit you.
Quasar Klutzes: you control a ship at the bottom of the screen that can only move left and right, and shoots bananas. There are blue aliens walking back and forth on multiple levels. The aliens are clumsy and will either slip on bananas, or two aliens may collide trying to grab the same banana. They will then start falling towards the bottom of the screen, but if they hit your ship while falling you lose 5 bananas. Your goal is to cause all the aliens to fall. There is also a robot dog that sometimes appears, and drops clouds of gas that subtract 2 bananas from your ship if they hit you.
Quasar Rain: this game takes place "underneath" Quasar Klutzes. Blue aliens and banana peels are raining down from the top of the screen, and you control a spring-loaded platform that slides left and right at the bottom of the screen. When an alien hits you, they are flung over to a wall of bunk beds on the left side of the screen. The aim is to avoid letting 3 aliens fall off the bottom of the screen (although the instructions assure us that the fallen aliens will be caught by a safety net, just off-screen) and also to avoid the banana peels, as they lose you points.
Stink Snakes of Saturn: you control a ship on the left edge of the screen that can only move up and down, and shoots pies. Yellow snakes appear from the right and slither towards you. If you hit a snake with a pie, it turns into a smiley face, that you can collect for a point bonus. You have a limited number of pies. If a pie misses, it will bounce back towards you, and you can collect it again. However, if a snake gets past you to the left edge of the screen, you lose 5 pies. When you have no pies left, it is game over.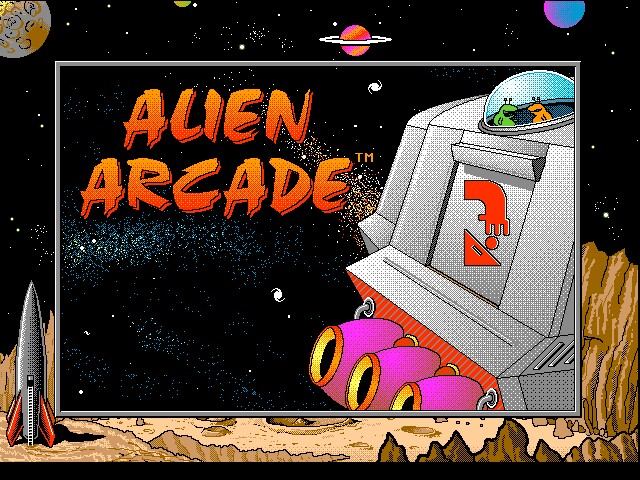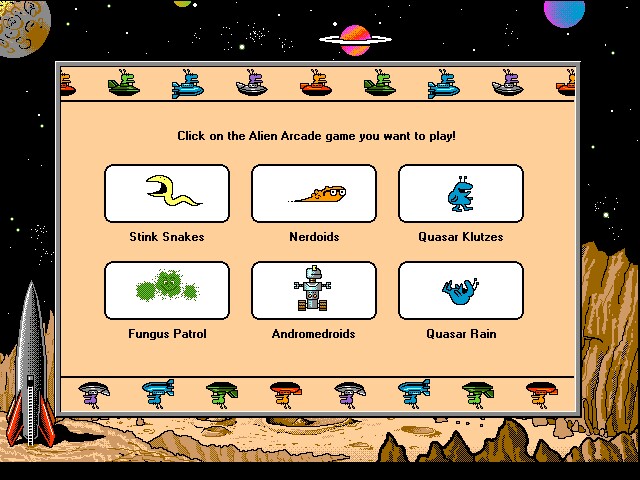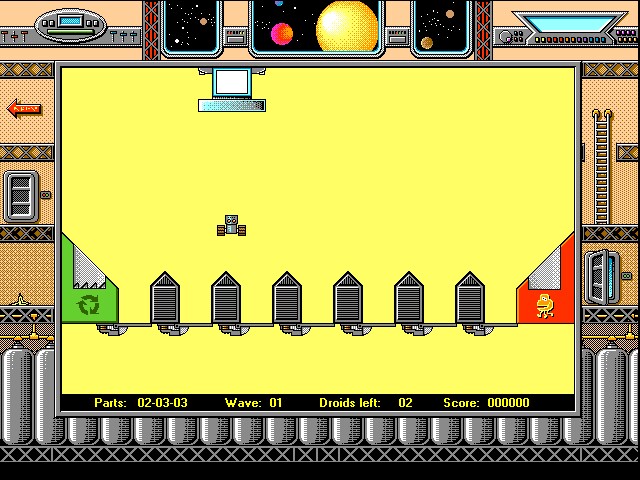 ---
Share this Product