---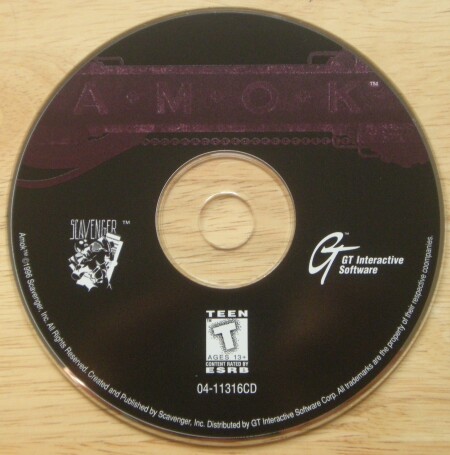 Actual Game
Amok
1-Click Install
Windows 11, 10, 8, 7, Vista, XP
(Scavenger 1996)
MY PROMISE
My games are genuine, install in one step, look, sound and play in Windows 11, 10, 8, 7, Vista and XP like they did in the old days, or your money back. This is my unconditional guarantee for three years.
WHAT IS INCLUDED
This listing includes the original game CD. An on-screen manual is also included. The box is pictured for reference only and is not included.
I will also provide a compatibility CD that will allow the game to run under ALL VERSIONS of Windows 11, 10, 8, 7, Vista and XP, both 32 and 64 bit.
INSTALLATION
One step: Insert my CD and the game will automatically work on your computer. Done. Yes, it's that simple.
Want to play? Click the icon. Want the game off your computer? Click Uninstall. Zero hassle.
TECH SUPPORT
Rapid response technical support for three years is always an e-mail or phone call away.
In the extremely rare event I cannot get this title to work on your system I will take it back for a full refund. All I ask is minimal assistance from you during the troubleshooting process.
The Game
Amok portrays a futuristic storyline on a planet which is identified in the manual as having the same name. There, two gigantic corporations, referred to by the acronyms NONLUN and AZTK, had previously been having an all-out war between them for forty-seven years. The war had involved all possible fronts and theaters, including operations in the air, on the surface of the land and sea, and beneath the water. Very recently, a weak peace accord had only just been reached. In the manual, the peace accord is described as being much like "a blanket covering the fire that smolders in the hearts of the people." The agreement is sufficiently unsteady that an influential mercenary company, known only as "the Bureau," has now decided to hire a capable battle walker pilot named Gert Staun to restart the war so they can continue to make large amounts of money by taking lucrative contracts from both sides. The player takes the role of Gert Staun.
Naturally "the Bureau" has placed a high priority on this, and they are funding it entirely on their own. Indeed, Gert Staun's battle walker, called the "Slambird" is explicitly said to be custom-modified. In particular, the Slambird can not only survive either on land or underwater, but it can transition between the two -- it can move, fight, and safely control its vertical position in either environment. These abilities are portrayed as costly and not standard to such vehicles in the universe where Amok takes place. The transformation of the Slambird between an underwater vehicle and a land vehicle is automatically scripted, however. The player has no power to control this transformation or alter the time when it happens. Instead, the player must get to the point when Staun will automatically bring the Slambird ashore to continue his attacks.
The object of this arcade-type game is to meet a series of objectives, and to do so in such a way that each side will blame the other. The game has a linear structure, based on levels that present tasks of increasing difficulty, and all sorts of hazards and targets are encountered. These include military bases, power generators, land mines, infantry, tanks, submarines -- even sharks and huge, aggressive birds. Infantry elements are poorly armored, so they can be killed by being run over. In one mission, the only way that the player will be able to get enough time to escape is to open with a surprise attack, slowing pursuit by destroying a parking facility full of unattended troop transport vehicles. Power-ups are scattered throughout the levels. The Slambird carries a variety of explosive devices and line-of-sight weapons. Some of the explosive weapons can bounce in a parabolic trajectory, and in addition there are two laser cannons that can fire rapidly an unlimited number of times. These cannons are useful in case no other weapons remain, and they can be used to create complex ripple fire, which can be used to cover an area that is surprisingly wide. When underwater, propellers are used, while torpedoes are automatically used instead of missiles.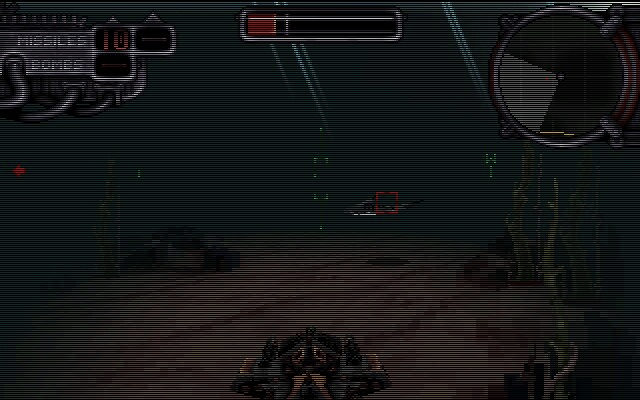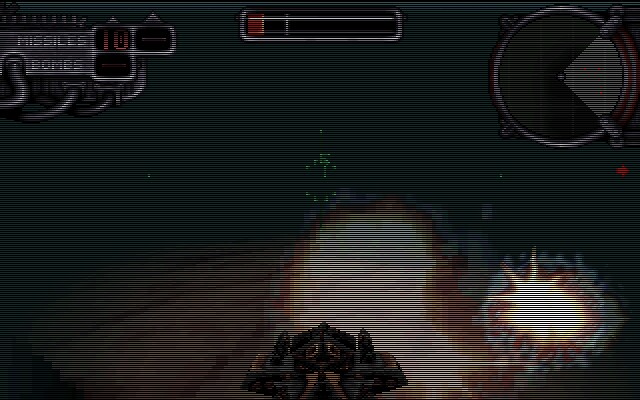 ---
Share this Product