---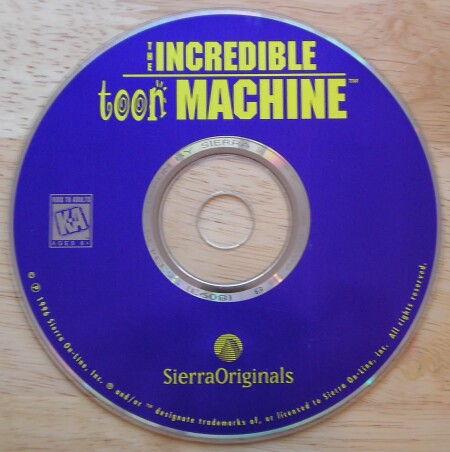 Actual Game 
The Incredible Toon Machine
1-Click Install
Windows 11, 10, 8, 7, Vista, XP
(Sierra 1995)
MY PROMISE
My games are genuine, install in one step, look, sound and play in Windows 11, 10, 8, 7, Vista and XP like they did in the old days, or your money back. This is my unconditional guarantee for three years.
WHAT IS INCLUDED
This listing includes the original game CD. An on-screen printable manual is also included. The box is pictured for reference and is not included.
I will also provide a compatibility CD that will allow the game to run under ALL VERSIONS of Windows 11, 10, 8, 7, Vista and XP, both 32 and 64 bit.
INSTALLATION
One step: Insert my CD and the game will automatically work on your computer. Done. Yes, it's that simple.
Want to play? Click the icon. Want the game off your computer? Click Uninstall. Zero hassle.
TECH SUPPORT
Rapid response technical support for three years is always an e-mail or phone call away.
In the extremely rare event I cannot get this title to work on your system I will take it back for a full refund. All I ask is minimal assistance from you during the troubleshooting process.
The Game
The Incredible Toon Machine is the sequel to Sid & Al's Incredible Toons, from Sierra. It is essentially an enhancement of Sid & Al's Incredible Toons for Windows instead of DOS, with same levels, but added multimedia features such as animated cut scenes between levels and CD music tracks. The objective, like its sister series and its prequel, is to finish a series of Rube Goldberg contraptions with crucial parts left out. The Incredible Toon Machine features many critters, all of which also appear in its prequel, including Al E. Cat, Sid E. Mouse, Eunice Elephant, and others. Al will chase and eat Sid whenever he has the chance. Also, Sid wears heart-patterned boxers under his yellow skin.
The game sports three menu options: Solve-A-Puzzle, Head-2-Head, and Hometoons.
In Solve-a-puzzle, you start with very easy puzzles which introduce the basic elements and the two characters. It is mainly like a tutorial at the beginning, but you really have to follow it through if you are not familiar with the Incredible Toon or Incredible Machine series.
The 130 puzzles included in the game increase in difficulty from level to level. Each gadget can be manipulated with handles. These handles appear around the gadget when you move it on the main screen of the puzzle. With the accordion, you can stretch a part to the right, but with the worm it is to the left. The spring will stretch it downward and the flower upward. Among the gadgets, only seven have a specific handle called computer that will modify the function. For example, you will be able to change the number of eggs Hildegard the hen will lay, or choose how many bullets the gun will shoot.
You will have a lot of fun trying possibly billions of possibilities to solve the puzzle, keeping in mind that only a few and sometimes only one will work correctly.
Head-2-Head is divided into two sections: the single or tournament match. With the first option, single, only one puzzle will be offered. The second option, tournament, lets you decide how many games you want to play. In this Head-2-Head game, players decide who will be Sid and who will be Al. Then, a menu will let you enter the allotted time for each character's turn. Remember, the first person to solve the puzzle will be the winner. Each player places only one object during their turn. If you have no idea as to how to solve the puzzle and you see that your opponent is well on their way to solving it, you can always try to sabotage the solution, having more time to come up with your own. This feature, although only available for two players on the same computer, brings many challenges to both players.
The third choice, Hometoons, lets your creativity design its own brain-squeezing levels. You can choose to create easy ones as well as nightmarish levels requiring dozens of gadgets in order to solve the puzzle. The Hometoons control panel offers several options. The load/save option will enable you to save your piece of artwork (so that you can share it with friends or anyone else), and to load existing levels to modify them for example. In the clapper, you write the title and the goal of the puzzle to make it easier for others to know what they have to do to solve it. The honker is the place where you choose the music and sounds among a wide selection. There are also the Nuke-a-Toon and Check List options. Nuke-a-Toon will erase a toon, and Check List will provide you with the list of steps needed to make a toon, so that you do not forget any actions.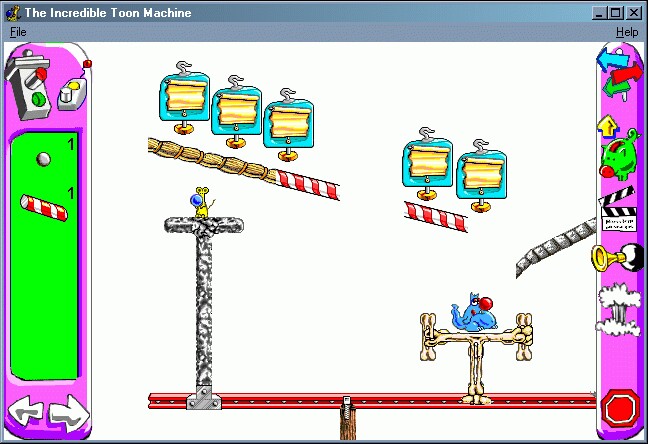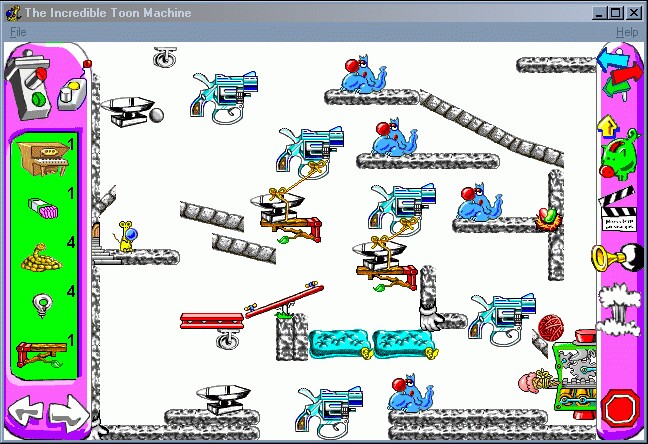 ---
Share this Product