FULL THROTTLE LUCASARTS +1Clk Macintosh OSX Install
---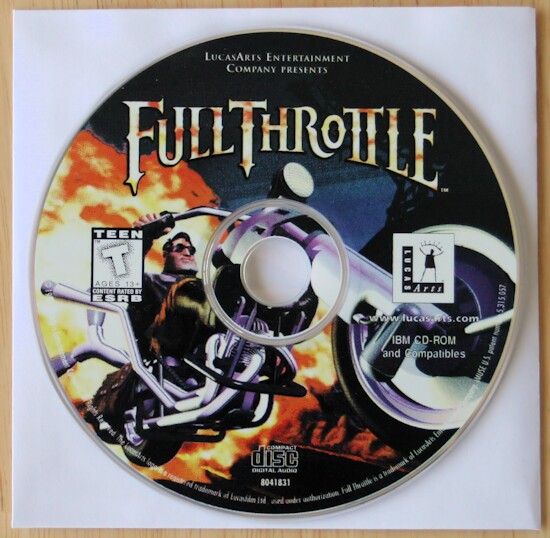 Actual Game
Full Throttle
A Heavy Metal Adventure

1-Click Install
Macintosh OSX

(LucasArts 1996)
MY PROMISE
My games are genuine, install in one step, look, sound and play in Macintosh OSX like they did in the old days, or your money back. This is my unconditional guarantee for three years.
WHAT IS INCLUDED
This listing includes the original game CD. An on-screen printable manual is also included. The box is pictured for reference and is not included.
I will also provide a compatibility CD that will allow the game to run under OSX versions 10.6 and higher. This covers any Macintosh made since late 2009.
Verify your version: From the Apple menu (upper left of screen) select About This Mac.
INSTALLATION
One step: Insert my CD and the game will automatically work on your computer. Done. Yes, it's that simple.
Want to play? Click the icon. Want the game off your computer? Move the game to the trash. Zero hassle.
TECH SUPPORT
Rapid response technical support for three years is always an e-mail or phone call away.
In the extremely rare event I cannot get this title to work on your system I will take it back for a full refund. All I ask is minimal assistance from you during the troubleshooting process.
The Game
Full Throttle was a totally different kind of game - a serious, melancholic, and even somewhat dark tale about murder, love, and betrayal, but without any sentimentality - for "real men".
Everything is cool in "Full Throttle", from bike design to background music. It is as if they said goodbye to all cozy and cute features, to all the half-kiddie stuff, and made a game that proved an adventure could be cooler than most shooters. For that alone LucasArts deserves deepest respect - here was it, a serious, fluent, action-loaded adventure, that would appeal even to those who thought adventure gamers were nerds. But that wasn't all, of course.
"Full Throttle" is wonderfully cinematic. It develops like a movie, with gameplay sections and cut scenes bearing almost the same importance. You don't only play it; you watch it. It was a great achievement - at that time, such movie-like games usually depended on a cast of live characters (like for example Under a Killing Moon or The Beast Within). Of course, "Full Throttle" doesn't have the same proportions as those games, but it is nevertheless much more cinematic than any other "pure" adventure before.
The puzzles are also more intuitive, more logical, the gameplay much more fluent. You are never stuck too much in one location, and your objectives are smaller, more immediate: of course, you have to clear your name and to defeat the villain, but the puzzles are more concrete, unlike in most adventure games by LucasArts, they don't build a complex structure where everything depends on each other, and smaller tasks reveal themselves as parts of bigger ones; they are modest, realistic, and straightforward. A great addition are the action sequences, which I found absolutely cool (especially fighting with different weapons).
LucasArts made great adventures before, but none of them was ever remarkable because of its story (perhaps with the exception of Loom). "Full Throttle" has a great story, which is simple, but very emotional. There are no stunning plot twists, and the plot is neither too complex nor particularly deep, but it captures the hearts of players with its emotional intensity and brilliant usage of typical situations: one good guy is dead, another one is framed, there's romance, and nobody knows how it will end. And although the ending does resembles a typical "save the world, get the girl" situation, it is not at all about that... the ending of "Full Throttle" belongs to the most touching gaming moments ever.
The characters of "Full Throttle" are not the hilarious undead pirates, tentacles, dogs and rabbits from the previous LucasArts adventures: they are real people, and they are portrayed in such a way we can't help having feelings for them. Ben, the main hero of the game, is one of the most appealing protagonists ever, and Ripburger one of the most hated villains, surpassed in my eyes only by Luca Blight from Suikoden II. There is also a great romance in the game, very touching and unsentimental, that fits the story perfectly.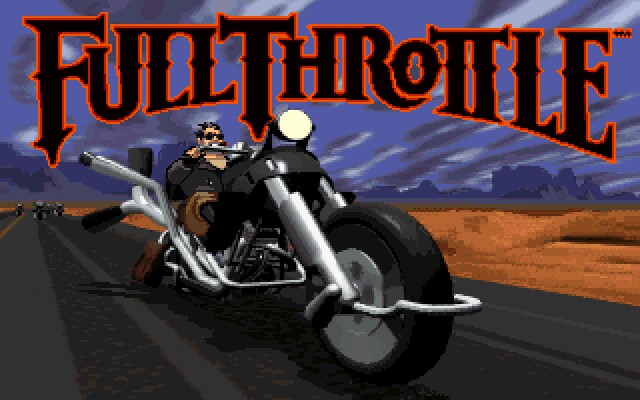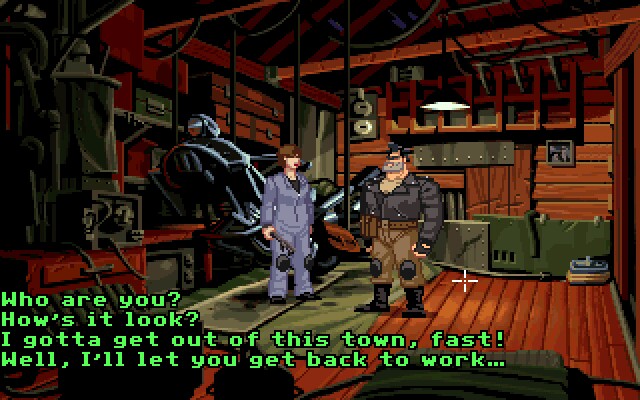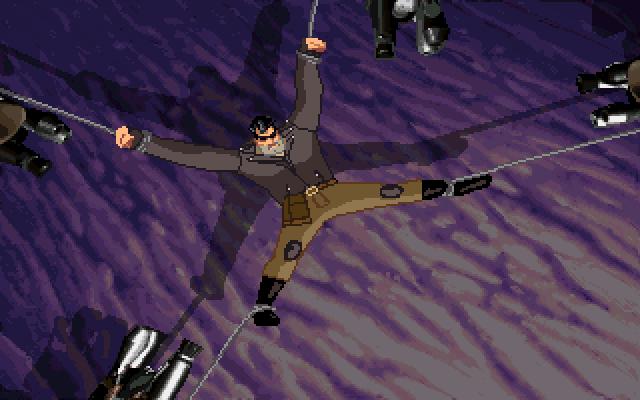 ---
Share this Product