---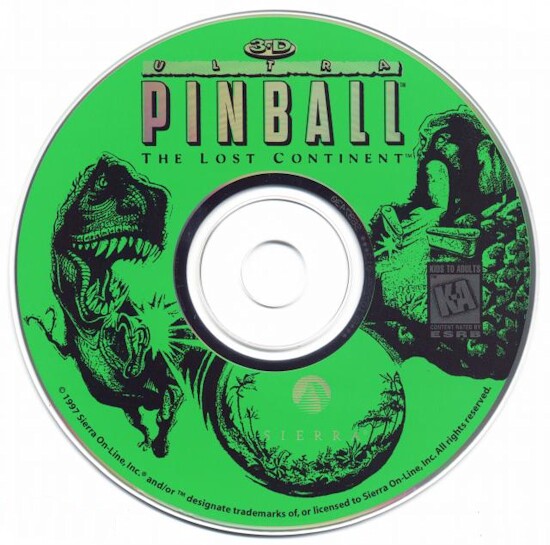 Actual Game
3D Ultra Pinball
The Lost Continent

1-Click Install
Windows 11, 10, 8, 7, Vista, XP

(Sierra 1997)
MY PROMISE
My games are genuine, install in one step, look, sound and play in Windows 11, 10, 8, 7, Vista and XP like they did in the old days, or your money back. This is my unconditional guarantee for three years.
WHAT IS INCLUDED
This listing includes the original game CD. Online help is available within the game. The box is pictured for reference only and is not included.
I will also provide a compatibility CD that will allow the game to run under ALL VERSIONS of Windows 11, 10, 8, 7, Vista and XP, both 32 and 64 bit.
INSTALLATION
One step: Insert my CD and the game will automatically work on your computer. Done. Yes, it's that simple.
Want to play? Click the icon. Want the game off your computer? Click Uninstall. Zero hassle.
TECH SUPPORT
Rapid response technical support for three years is always an e-mail or phone call away.
In the extremely rare event I cannot get this title to work on your system I will take it back for a full refund. All I ask is minimal assistance from you during the troubleshooting process.
The Game
The Lost Continent incorporates a big budget plot. Explorer-types crash-land on (you guessed it) an island, stumble onto a villain who wants to rule the world via power derived from evil dinosaurs which were in fact, at one time, indigenous people transformed by the scoundrel himself in his oh-so-cleverly designed morphing machine. You know - your everyday mishap. And our intrepid explorer's method of saving the world? Why, giant dinosaur pinball, of course!
Thankfully, The Lost Continent doesn't stray far from its 3D Ultra predecessors by keeping the 'game' in video game. If you're lookin' for a hard core simulation game (like Last Gladiators), forget about it. On your way to stopping the evil Dr. Heckla, you'll encounter a slew of animated dinosaurs, moving-target shoot-o-ramas, and a beauty mounted on a horned beast. That is, if you can conquer the first table, which is the hardest in the game.
Which says a lot, seeing as how there are 16. However, be forewarned that only 3 of these are full tables - the others are smaller, goal oriented things. You mostly need to fulfill different requirements to get to the next board, such as hitting a group of plungers several times or nailing a couple of ramps. The 3 full tables provide a much harder challenge. It would have been nice if there were more of these, though it's hard to complain with this much variety.
The stationary graphics are well done and crisp. Sierra really had a good grasp on smooth and colorful design. The same can be said here, with beautifully done bitmapped backgrounds and fluid animations. Beside the groovy graphics, there are other elements in the gameplay which even crack can't touch. One of which is the save or sacrifice option. If you lose a ball down the gaping hole of doom, you can save it by getting dropped to the previous table. I found it saving my ass on more than one occasion. Verbal clues given by your wacky survivor friends on every level are another bonus. By telling you what to aim for, they are especially helpful for those of us whose fixation lies entirely on keeping both eyes glued on that silvery orb of glee.
Not forgetting the auditory aspect of The Lost Continent, it would be a disgrace not to mention the excellent music. The soundtrack accompanies each level's theme suitably. I'm not going to buy the game soundtrack so I can listen to it in the car, but hell, as far as game soundtracks are concerned, it's one of the best I've heard.
Whether you are Janet Jackson or an avid gamer, control is a big issue. I'm convinced the 3D Ultra designers didn't sleep through their physics courses (no pool of spittle on those desks). The ball reacts to objects according to actual laws of physics, upping the realism factor. The flipper response is good too. In all, The Lost Continent was one of the best pinball games of the era.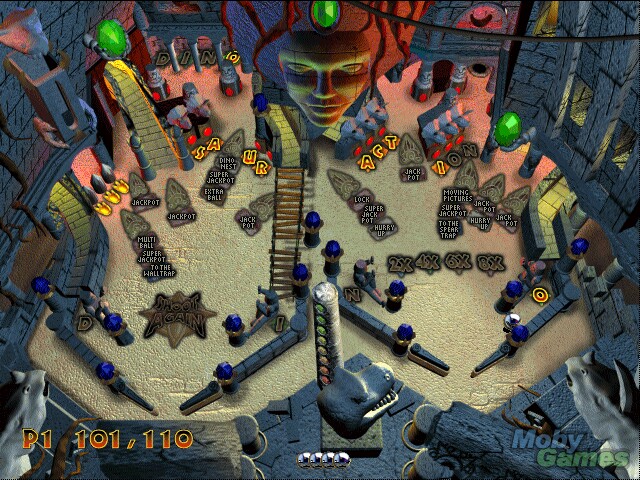 ---
Share this Product