---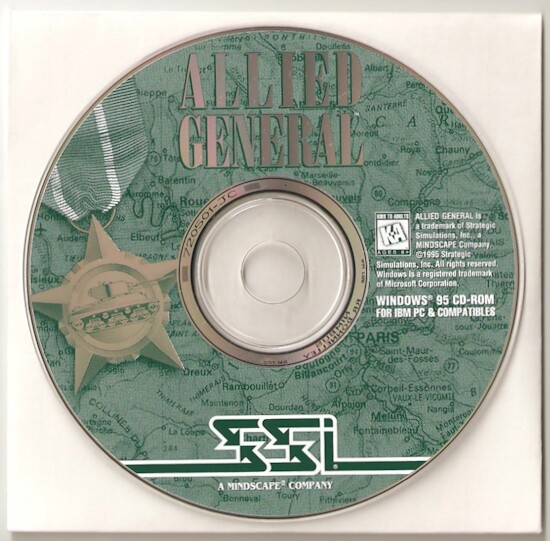 Actual Game 
Allied General

1-Click Install
Windows 11, 10, 8, 7, Vista, XP

(SSI 1995)
MY PROMISE
My games are genuine, install in one step, look, sound and play in Windows 11, 10, 8, 7, Vista and XP like they did in the old days, or your money back. This is my unconditional guarantee for three years.
WHAT IS INCLUDED
This listing includes the original game CD. An on-screen, printable manual is also included. The box is pictured for reference only and is not included.
I will also provide a compatibility CD that will allow the game to run under ALL VERSIONS of Windows 11, 10, 8, 7, Vista and XP, both 32 and 64 bit.
INSTALLATION
One step: Insert my CD and the game will automatically work on your computer. Done. Yes, it's that simple.
Want to play? Click the icon. Want the game off your computer? Click Uninstall. Zero hassle.
TECH SUPPORT
Rapid response technical support for three years is always an e-mail or phone call away.
In the extremely rare event I cannot get this title to work on your system I will take it back for a full refund. All I ask is minimal assistance from you during the troubleshooting process.
The Game
Allied General follows Panzer General in the SSI Generals series. In Allied General you command the Allies in their quest to evict the Third Reich from North Africa, the Steppes of Russia, and finally Fortress Europe itself. The game features familiar hexagonal grids and turn based play, so fans of traditional wargames will feel right at home with the basics of its interface. The emphasis in Allied General, like Panzer, is on the strategic deployment of men and material on the battlefield. As in a real war, you must pay close attention to logistics and troop deployment to emerge victorious. The game is divided into 3 campaigns, each composed of a series of strategic battles that must be completed successfully. The units you have available for each individual battle is based on your performance in the previous scenario, a feature that adds greatly to the overall realism of the game.
The artificial intelligence used in AG is adjustable, so you can control just how magnificent Rommel really is. Also, there are enough individual scenarios to keep even George Patton busy for weeks.
Graphics and sound are adequate for a game of this genre and era. Units are represented by icons that occupy spaces on the grid, and when combat erupts, small animated windows pop open to depict the action. AG also contains some of the most authentic looking cutscenes (in the form of pseudo 1940's propaganda films) ever included in a wargame. In the sound department, AG also performs well with sound effects that are crisp and well done.
In all, I thoroughly enjoyed playing Allied General. The point and click interface and adjustable difficulty settings allow beginners to jump right in, while still providing a challenge to the experienced armchair warrior. The gameplay is surprisingly addictive when compared to other games of this genre, and should appeal to both wargamers and non-wargamers alike.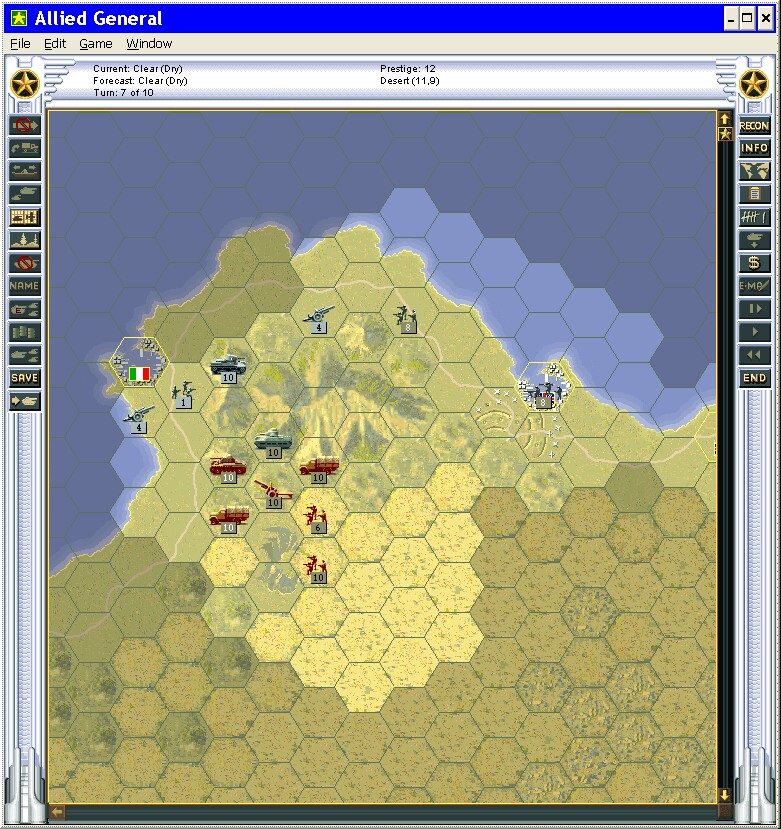 ---
Share this Product